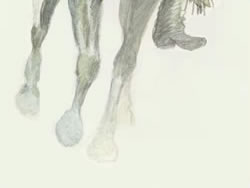 The watercolor below is a study done from photographs of barrel racing competitions.



The watercolor sketch above was inspired by scenes from the John Ford western, She Wore a Yellow Ribbon. The scene is a series of takes of actor, Ben Johnson, riding hard through Monument Valley. Johnson plays to role of Argent Tyree, sent out alone to scout for hostile Indians, instead, they found him and gave chase.
The sketch was done in preparation for a series of finished works and other sketches which are all titled by the artist as Tyree's Ride. The series is not copies of movie scenes, rather it is inspired by them. The artist uses his own sketches and photographs from numerous hikes in the Four Corners area. Shots of horses and riders were sketched, however, from freeze-framed DVD movie scenes.